What's included?
No Fluff, Just What You need
Review and track your progress working through our library of hundreds of educator-approved videos across 9+ nursing subject areas (and more being added!). From Med-Surg and Pharm to Psychiatric Mental Health and Peds, these ad-free videos have helped literally hundreds of thousands of students and nurses Level Up!
Big Subjects, Quick Reviews
This MEMBERSHIP EXCLUSIVE includes overviews for four key subjects (with more on the way!) These "cram courses" are the ideal review tools you've been looking for to get you ready right before an important exam. Our ever-growing bank of review questions is also just what you need to make sure you're up to speed.
DOSAGE CALCULATION COURSE
The complete online Dosage Calculation Course is included, ready whenever you need it! This course provides the most complete, flexible approach available to help you master dosage calculation. It is built to help you learn YOUR way.
Specialty Courses & Contact Hours
Members get complete access to our library of speciality courses including ABG interpretation and EKG interpretation, along with all of our ANCC accredited contact hours. Whether you're a practicing nurse working on required Contact Hours or you just want to go deeper, these are for you!
EXCLUSIVE MEMBERS-ONLY PERKS
Your Membership gets you special pricing on all of Level Up RN's physical products which were built to work perfectly with Membership content. Double-down on your studies with the best nursing flashcards, review games to make you LOL (and Level Up), our yearly planners and more.
But that's not all. Members also get special access to new products and resources!
As seen on
Tell me more...
Whether you need to dig deep into Pharmacology, Med-Surg, Peds or beyond, we've got you covered!
Our ANCC accredited Contact Hour library is constantly growing!
Customer Reviews
Write a Review
Ask a Question
Filter Reviews:
membership
videos
NCLEX
cards
nursing school
material
school
information
concepts
course
03/20/2023
JERYL G.

Canada
Amazing!
Excellent source for study material! Very concise and on point!
03/18/2023
Chinwendu U.

United States
Good for school and nclex
The best for nursing students
03/17/2023
ofelia r.

United States
Love the program
Love the program but we need nclex new generation but I level up amazing
03/17/2023
lily f.

United States
Getting ready for nclex. Any advice
03/15/2023
Danielle B.

United States
Fantastic
I'm using this to help myself refresh and relearn some changes in nursing as I'm an LPN for almost 10 years now and I'm going back for my RN. Absolutely love the membership!
03/14/2023
Chrisvely U.

United States
A lot of resources
I felt there were a good amount of resources. I really understand the content better while watching her videos. I would like to see more of a variety. For example I am learning about trauma and ER nursing and would like videos on that.
03/13/2023
Akosua A.

United States
Amazing!!!
One of the best way to learn! I'm loving it so far! Kudos!!
03/13/2023
Amber T.

United States
Membership and flashcards
Excellent! I am getting a better understanding of the concepts! I must keep at the repetition!!
03/12/2023
Shawna B.

United States
Crawling to the finish line
This has been the best money spent. It is very convenient to 'pop in and out' and watch the videos from the first time and to refresh. I haven't even made it yet to the questions or the dosage! Being able to refresh back on my basic LPN skills has been a huge help as well! I finish in August so this is really helping me finish strong!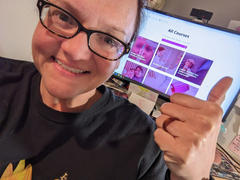 03/10/2023
Haviv G.

United States
Excellent
My experience with Level Up RN was really helpful. I am getting back to learning more material since I withdrew from my courses for three months. I am planning to go back to school and start using Level Up RN more.
02/26/2023
Inez L.

United States
Level up membership
I received the unofficial pass yesterday ! I tested on 2/23/23 and it was hard but with your question bank , if I did not know something , I would research , look up up answers , etc . Question bank was a huge help along with the videos and tip of the day
02/23/2023
ofelia r.

United States
Amazing
Very helpfull I love this programs, very concision
02/22/2023
Puresha G.

United States
Well worth the investment
The flashcards have been a lifesaver! The topics covered and the information provided is concise enough to remember but is not minimized at all. I would say these are a must have for any nursing student.
02/21/2023
Corinne K.

United States
Great resource
I am so glad I purchased this. It has helped me so much in nursing school! Thank you so much
02/05/2023
Jessica M.

United States
THIS WORKS!!!!
I utilized the monthly membership and I also purchased the pharmacology flashcards. I passed the NCLEX-PN on my first try!! I cannot thank you enough for the material that you put out. It has been so helpful. I am now studying for my RN and will continue to use Level Up RN!!!
02/02/2023
Hannah W.

United States
Passed my NCLEX in 75 Questions!
Your videos and flashcards were fantastic to use during nursing school and a great way to review for the NCLEX! I passed in 75 questions on my first try! Truly no better way to study!
02/02/2023
Brandy A.

United States
Love it.
I am a LPN working on my RN. I had the flashcards already but this membership takes it to a new level. The videos are so helpful, but knowing where to go to in the flashcards is a added bonus. I am so thankful for this resource.
01/30/2023
Evelyn A.

United States
Excellent tool.
Couldn't have finished nursing school without level up RN. Merris and her maternity lectures put me through school and when about 55 questions out of 75 hit me on NCLEX, Merris voice was all over me. Couldn't have done this without your great help. God bless you and elevate your course level up RN. You're indeed a blessing.
01/19/2023
Jennifer H.

United States
New member
The membership helped with getting ready for college.
01/18/2023
Vivian C.

United States
The BEST!
Got maximum scores on my ATI!! Whooohooo
Frequently Asked Questions
Becoming a Member

Simply complete your membership purchase. Your monthly subscription gets you immediate & complete access to the Level Up RN Membership!

Your membership will expire 30 days after your last successful payment. It will continue as long as you are subscribed! You can cancel at any time, but your membership access will stay active until 30 days after your last successful payment.

Your membership will become active immediately after your first subscription payment. Check your email for instructions on how to log in and get started!

Unfortunately, we don't offer refunds at this time; however, it is quick and easy to cancel your Membership at any time.

Member Benefits

You can use the membership content as much as you like while you are an active member. Watch, review, and repeat to your heart's content.

Members usually save around 10% on all of Level Up RN's physical products. Additionally, members are the first to get access to new product releases and addtional special deals!