What happens when you take our proven flashcards and pair them with Level Up Nurse Squad, our first-of-a-kind nursing card game?
Your studies get an upgrade.
It's the new, best way to learn.

The fundamentals flashcards give you the most important nursing pharmacology knowledge you need to know without the fluff. They are your ticket to faster, more effective studying. Not to mention you can always pair them with our free YouTube videos. Students, nurses, and educators have been using them for years and the results speak for themself.
Fundamentals ATI? Conquered. NCLEX? Passed. Careers? Leveled Up.
Then there's Level Up Nurse Squad - Fundamentals. Why a card game? Our nursing educators didn't just want to add fun to your nursing life. Nope, they picked out the crème-de-la-crème of nursing knowledge and put it in the form of devilishly difficult questions. It's the ultimate review tool. If you master THIS game, you can be sure you really know your $h!t.
It's a perfect pairing. Learn with the flashcards and review with the game.
Go on, put 'em together. We dare you. 'Cuz we know pharm won't stand a chance.
Meet the Nurses
Willow the Whiz
WILLOW has seen it, done it, and lived to tell about it.⁠ She can answer any of your questions.⁠
Rabia the Researcher
Rabia knows the ins and outs of facility policy and⁠ evidence-based practice, plus she has a keen eye for⁠ implementing improvements.⁠
Izzy the Improviser
Izzy can do the most with the least, fixing any situation⁠ with a lot of ingenuity—and a little bit of tape.⁠
⁠
Lamar the Leader
Lamar sets the tone, excels at getting a unit in order,⁠ and works hard to keep morale high.⁠
Adam the Advocate
Adam champions inclusion, speaks up for his patients' needs,⁠ and doesn't back down from making his concerns heard.⁠
Carmen the Composed
Carmen keeps it together when things get crazy and⁠ knows who to call and what to do, even in chaos.⁠
Piper the Pal
To know Piper is to be her friend. She makes everyone—from⁠ new patients to new staff—feel included and welcome.⁠
Mia the Mentor
Everyone on the unit looks up to Mia the Mentor. She's always⁠ willing to take on a student or take a newbie under her wing.⁠
Customer Reviews
Write a Review
Ask a Question
Filter Reviews:
cards
space
courses
materials
textbook
learner
break
penny
content
nursing
07/19/2023
Latrice C.

United States
Just Gettin' Started!
Hello! I start classes next Tuesday, July 25th. I'm sure with the Level Up flashcards, I'll do just fine. Thx again ☺️
02/28/2023
Rachel N.

United States
BLOWN AWAY!
LOVE these cards as I'm prepping for my first semester. The amount of content you're getting on the cards is worth every penny (like a whole $$$ textbook condensed). I've purchased other materials from Etsy, online courses, YouTube and study resources and this beats ALL of those by miles. Love the redesign-font size, popping color, and product packaging of the cards (with space to thumb through)! I'd also been looking for game material for nursing for so long and stumbled across these fantastic cards to make learning fun. I appreciate the amount of time invested into both of these materials as I'm a visual & tactile learner and need a break from the books! LOVE these materials, HIGHLY RECOMMEND THEM, (also appreciate the graphic design beautiful artistry of the cards) and can't wait to invest in more materials from Level Up RN!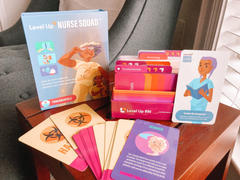 02/09/2023
Daisy R.

United States
So helpful!
I was overworking my brain trying to learn everything, and then decided to give these cards a try. And oh my goodness they helped me so much, I aced my exam! So grateful!